It's time for a bleaching guide! I wrote one up on Cut Out+Keep over a year ago but it was written hastily and became confusing for some.

If you seriously want to bleach your hair the safe way you are going to need to spend some money. It'll be cheaper than the salon, of course! Getting a Sally's card will save you a few bucks and they usually have $20 tubs of bleach on sale for around $10.

1 \ 2 \ 3 \ 4 \ 5 \ 6 \ 7
Developers





For this guide, we are using the coconut oil method and a bleach bath (aka soap cap). I also don't use exact measurements since I've done this often, I just eye it and go. Make sure your bleach mixture is creamy but not completely watery/goopy.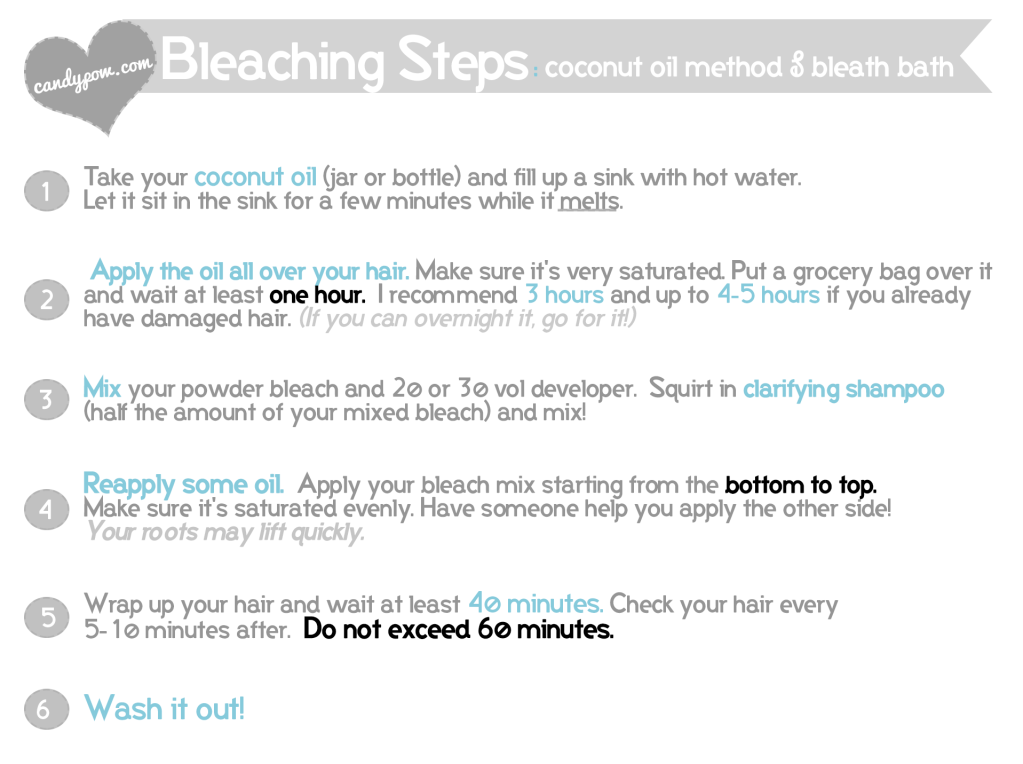 You may need to do another bleach bath depending on your hair and what color you are going after. PLEASE wait at least a week before attempting another bleach bath.

Coconut oil speeds up the lightening process. It will protect your hair to a certain extent, you still need to treat your hair nicely and condition it. Good conditioner is not expensive either. The kind I use are around a dollar (Sauve, White Rain, etc) .
If you plan to dye your hair afterwards:
Shampoo your hair at least two times to remove the oil. Your hair will feel dry. Do not use conditioner.
If you plan to rock the bleached look:
Use a conditioning treatment. Mix a small amount of coconut oil in it if you like! Air dry :)
These are RAW, Special Effects, Punky, Manic Panic, Ion Brights (only) etc.
You want to dye your hair? Assuming that you hair has lifted enough. Your hair shouldn't have any oil residue leftover. If you shampooed it out 100% then you need to airdry or blow dry your hair 100%. Bone dry. If you are not sure, wait a day, shampoo again and dry it.

These dyes will condition your hair. I recommend leaving these dyes in your hair for at least 3 hours. (Remember, patience!) You can wrap it up for the night and wake up to wash soft new hair :)

Sometimes I'll wash out the dye early and I'll end having to redyeing it to brighten or deepen the color, so save your time!
Other dyes
Loreal hicolor, Loreal hilift (for dark hair only), Ion Color, Clairol, etc.


These dyes require that you mix volume developer with it. These are the dyes that usually say only leave it for 25 minutes or one hour. Guess what? You can use coconut oil method for these dyes. Apply the oil, wait at least one hour then apply the dye mixture right on top of it. Process for the recommended time based on the dye you bought. Usually the time is either on the box or on the instructions.

*I do not recommend double processing. Wait a few days to a week before you use these dyes on freshly bleached hair.*
I can't assist with advice for bleaching to blonde hair because I haven't personally done that. All I know is that your hair has to be lifted enough for toner to work to remove those brassy tones.

Use a blue toner for orange.
Use a purple toner for yellow.

People recommend Shimmer Lights shampoo to tone down brassiness.